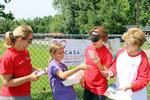 Original article published in The Paris Post-Intelligencer on June 19th. http://www.parispi.net/news/local_news/article_5660c512-7431-11e8-ab1d-3b761674c3f1.html
The Henry County Court Appointed Special Advocates also called CASA will be holding a Boston Butt fundraiser to raise money for the group, which focuses on helping children in foster care.
Boston butts cost $40 and can be purchased by calling 363-7940 or at Facebook.com/HenryCoCASA.
Tickets be purchased now through Friday.
The Henry County Sheriff's Department will be cooking the butts, which can be picked up from 3-6 p.m. on June 29.
All of the profits from the sale will go towards the Henry County CASA, Inc. The mission of the Henry County CASA is to improve the lives of children who have been abused and neglected by providing caring, consistent and trained adult volunteers to advocate for safe and permanent homes.